[Jakarta, Indonesia, October 9, 2023] Indonesia's Jakarta–Bandung high-speed railway, known as the WHOOSH, has officially entered service. The railway reduces travel time between Jakarta and Bandung from 3.5 hours to just 40 minutes, which will boost economic development along the route. Huawei has partnered with China Railway Signal & Communication (CRSC) and China Telecom to build a dedicated railway network for the WHOOSH. This network facilitates real-time communications, control, and dispatching of the trains, providing reliable and robust technical support for intelligent, safe, and efficient train operations.

As the first high-speed railway in Southeast Asia, the WHOOSH spans 142.3 kilometers between the capital city of Jakarta and the popular tourist destination of Bandung in Indonesia. The maximum operating speed of the trains is 350 kilometers per hour. The WHOOSH is also the first project that applies China's high-speed railway system, including all elements of the industry value chain, outside China. The WHOOSH marks Indonesia's entry into the high-speed railway era.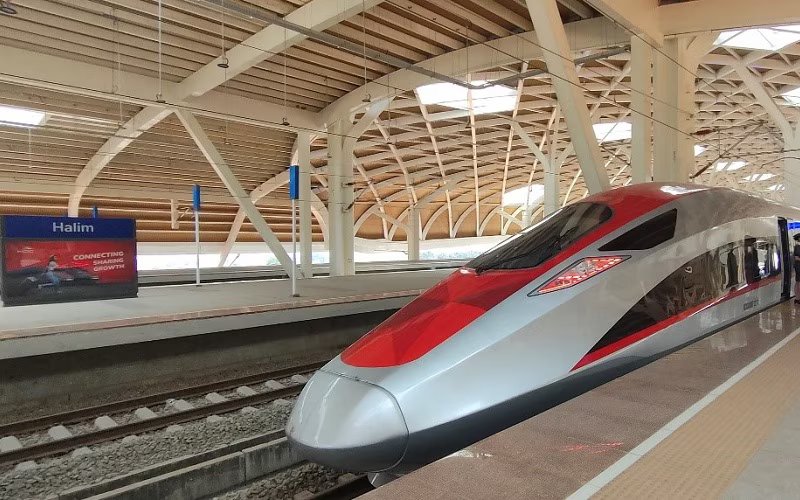 The WHOOSH is equipped with the Chinese Train Control System Level 3 (CTCS-3), which was independently developed in China. Due to the high speed at which the trains travel and their short departure intervals, a stable and reliable dedicated communications network that provides high security, large bandwidth, and simple O&M is crucial for the train control system. This guarantees that the trains run safely, smoothly, and efficiently.
According to Lai Chaosen, Vice President of Huawei Indonesia, the WHOOSH's train-to-ground wireless network adopts Huawei's mature solution and employs interleaving in networking for seamless coverage. By achieving up to 99.99% availability, the network ensures the stable transmission of train control signals and the intelligent orchestration and scheduling of train numbers and function numbers.
The data network uses Huawei's next-generation data communications equipment, which guarantees 100% secure networks through native hard pipes. Every link is protected by redundancy, and redundancy switchover can be completed within just 35 ms.
The transmission network uses Huawei's Hybrid MSTP equipment, which provides the large bandwidth and high stability required by over 20 high-speed train systems, such as scheduling and command, disaster prevention, video surveillance, passenger ticketing, and power telecontrol systems. The network is also capable of addressing the growth and evolution requirements of future railway services.
Liu Jieping, CRSC's Deputy Chief Engineer of the Jakarta–Bandung Project, explained that the launch of the WHOOSH represents a major landmark in China's going global strategy for high-speed railways. The train-to-ground wireless network, transmission network, data network, and other system solutions provided by Huawei have built a high-quality dedicated communications network for the WHOOSH, and provided reliable technical support for safe and efficient train operations.
Dwiyana Slamet Riyadi, President Director of PT Kereta Cepat Indonesia China (KCIC), stated, "We would like to thank all stakeholders, especially Huawei and CRSC, for their contributions in preparing technology solutions and railway infrastructure that are instrumental in supporting the operation of the Whoosh high-speed train. The shared implementation of proven technology solutions and operational solutions of the Whoosh high-speed train can serve as a reference and benchmark for the development of other high-speed rail infrastructure in Indonesia and similar projects in other ASEAN countries."
Source: cyberpogo.com
---
For enquiries, product placements, sponsorships, and collaborations, connect with us at

[email protected]

. We'd love to hear from you!
---
Our humans need coffee too! Your support is highly appreciated, thank you!