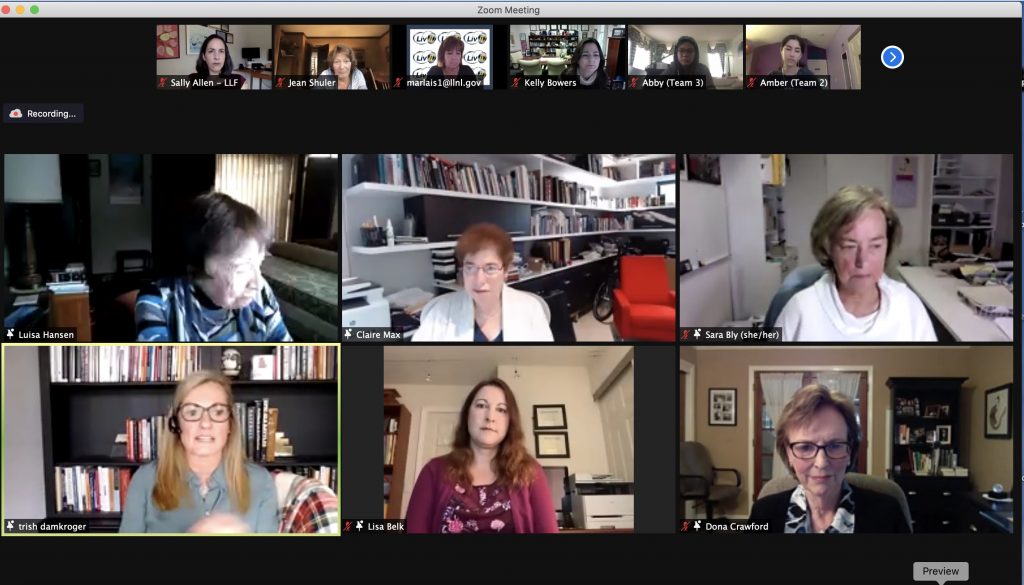 Livermore High School freshman Amber Belk is focused on studying chemical engineering in college, but through the Girls Who Code – "Big" program, she gained a new appreciation for how high performance computers that can model the types of molecules she will be studying.
"Writing software codes and using the Linux operating system was really fun," Belk said. "I really enjoyed the random number generator used in the dice rolling program. It reminded me of the statistics lesson I recently completed in geometry class."
Belk was one of the 25 high school students introduced to the world of high performance computing in the first-ever virtual Girls Who Code – "Big" program, a full-scale collaboration between Lawrence Livermore National Laboratory (LLNL), the Livermore Lab Foundation (LLF) and the Livermore Valley Joint Unified School District (LVJUSD).
The program brought girls from several Bay Area Schools and LLNL mentors together for two hours after school each day Oct. 5-8 to learn first-hand about supercomputer hardware, parallel computing and scientific application and visualization. See the photo gallery.
For many years Lab employees have been volunteering for Girls Who Code, through the Livermore Valley Joint Unified School District. The mission of the Girls Who Code program is to provide girls the opportunity to explore science, technology, education and math (STEM) and closing the gender gap in STEM careers. Due to COVID-19, and not being allowed to hold in-person events, the team had to be innovative to pull off a completely virtual program.
"Girls Who Code – 'Big' exceeded our expectations on just about every level," said Dona Crawford, LLF board chair. "Our students were thrilled to expand their technical skills and be able to interact with the Lab's mentors, who are excellent STEM role models. It was a tremendous effort by the Lab team and we're so very grateful for the partnership."
Kelly Bowers, superintendent of schools for the LVJUSD, has been involved with Girls Who Code (GWC) since its inception in 2012. "I naturally prefer our in-person events, but the virtual format enabled us to interact, discuss, chat and join break-out groups, so it was the next best thing," Bowers said. "It is so important to offer events like Girls Who Code to pique interest in computing careers among young females. It opens up opportunities and exposes them to a network of support and a field that is exponentially growing. As I shared with the students, it is never too early to dream big, set goals and work hard to attain them, even when facing challenges."
During the program, Lab mentors brought concepts to life using LLNL open-source software through presentations, live demos, breakout groups and group activities and exercises. Guest speakers from LLNL included Kim Budil, principal associate director for Weapons & Complex Integration; Pat Falcone, deputy director for Science & Technology; and Tammy Ma, plasma physicist for NIF & Photon Science.
"Girls and women remain underrepresented in most STEM fields and these are many of the most exciting and fastest growing areas of opportunity today," Budil said. "Our world is only getting more complex and more dependent on technology, so fluency with tech and a sense of possibility for these young women is incredibly important to give them opportunities in the future."
The program culminated with a STEM-focused career panel of former and current LLNL women who shared stories to help inspire and guide the next generation of women scientists. The panel was comprised of Lisa Belk, Information Technology Operations division leader, Computing at LLNL; Sara Bly, user studies consultant; Trish Damkroger, vice president, Intel Data Center Group; Luisa Hansen, LLNL nuclear physicist and Claire Max, director, UC Observatories.
"I feel so strongly that we need to offer opportunities to the next generation to pursue STEM careers," said Belk, STEM career panelist and parent to participant Amber. "Providing broad opportunities, as well as ones focused on underrepresented minorities including girls, is important to ensuring all people feel included in STEM careers."
Students were actively engaged over the four days and at the end of the program were tasked to give presentations.
"This was a terrific opportunity for young women in our area to learn about supercomputers as well as the Lab's expertise and capabilities," Crawford said. "The student presentations on our final day were on point and their questions quite astute. They also clearly appreciated the opportunity to connect with some of the brilliant role models we have at LLNL. Doing so enabled them to see what their own future might hold."
---
For enquiries, product placements, sponsorships, and collaborations, connect with us at

[email protected]

. We'd love to hear from you!
---
Our humans need coffee too! Your support is highly appreciated, thank you!