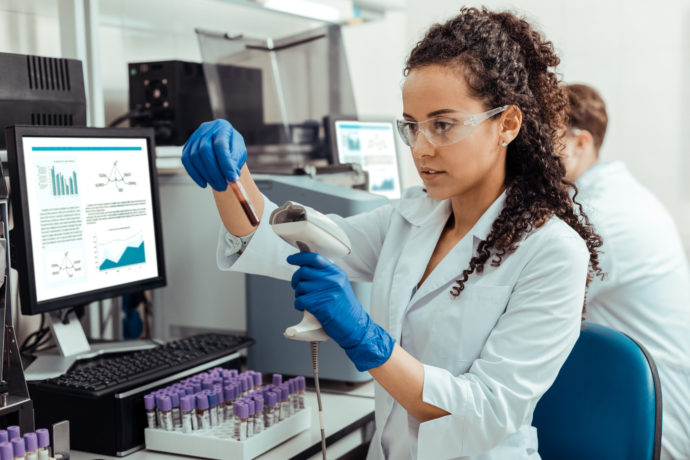 What's New: Global biopharmaceutical company AbbVie is leveraging artificial intelligence (AI) and natural language processing (NLP) for research translation, improving collaboration and search capabilities to enable the discovery of new treatments for patients.
"We built Abbelfish Machine Translation and AbbVie Search to accelerate and scale the work of our researchers, reducing the time it takes to discover and deliver transformative medicines and therapies for patients. We're looking to leverage Intel technology in a new way to deploy these capabilities at scale across the enterprise."
–Brian Martin, Head of Artificial Intelligence at AbbVie
Why It Matters: With 47,000 employees around the world, AbbVie serves more than 30 million patients in 175 countries. With a geographically diverse team collaborating on numerous projects at the same time, AbbVie's researchers need to be able to access critical data in a variety of languages. Commercially available language translation services failed to provide the most accurate translations for their highly domain-specific biomedical text, making it difficult to collaborate and ensure access to the latest research – a challenge felt across the research industry by researchers who speak English as a second language. To solve this problem, AbbVie created its own domain-specific translation and search tools, leveraging AI.
How Abbelfish Machine Translation Works: Abbelfish Machine Translation is a language translation service originally designed for German to English translation, which has expanded to include Spanish, Italian, French, Portuguese, Russian, Chinese and Japanese. Over one million texts are translated each year with the Abbelfish service, using up to 10 concurrent translations per minute.
How AbbVie Search Works: AbbVie Search is a question and answer-based search tool for biomedical research, based on the BioBERT transformer model. AbbVie Search allows a research to ask a question, such as "What is the most common species of Human Coronavirus among adults," with the system quickly responding with the answer, "HCoV-OC43" including a collection of relevant scientific articles and clinical notes.
About the Technology: AbbVie leveraged Intel technology to speed up inference for Abbelfish Machine Translation and AbbVie Search. With 2nd Gen Intel Xeon Scalable processors and the Intel Optimization for TensorFlow with Intel oneAPI Deep Neural Network Library, AbbView sped up Abbelfish by 1.9x. By leveraging 2nd Gen Intel Xeon and the Intel OpenVINO toolkit, AbbVie Search was accelerated by 5.3X.
About Intel
Intel (Nasdaq: INTC) is an industry leader, creating world-changing technology that enables global progress and enriches lives. Inspired by Moore's Law, we continuously work to advance the design and manufacturing of semiconductors to help address our customers' greatest challenges. By embedding intelligence in the cloud, network, edge and every kind of computing device, we unleash the potential of data to transform business and society for the better. To learn more about Intel's innovations, go to newsroom.intel.com and intel.com.
© Intel Corporation. Intel, the Intel logo and other Intel marks are trademarks of Intel Corporation or its subsidiaries. Other names and brands may be claimed as the property of others.
---
For enquiries, product placements, sponsorships, and collaborations, connect with us at

[email protected]

. We'd love to hear from you!
---
Our humans need coffee too! Your support is highly appreciated, thank you!