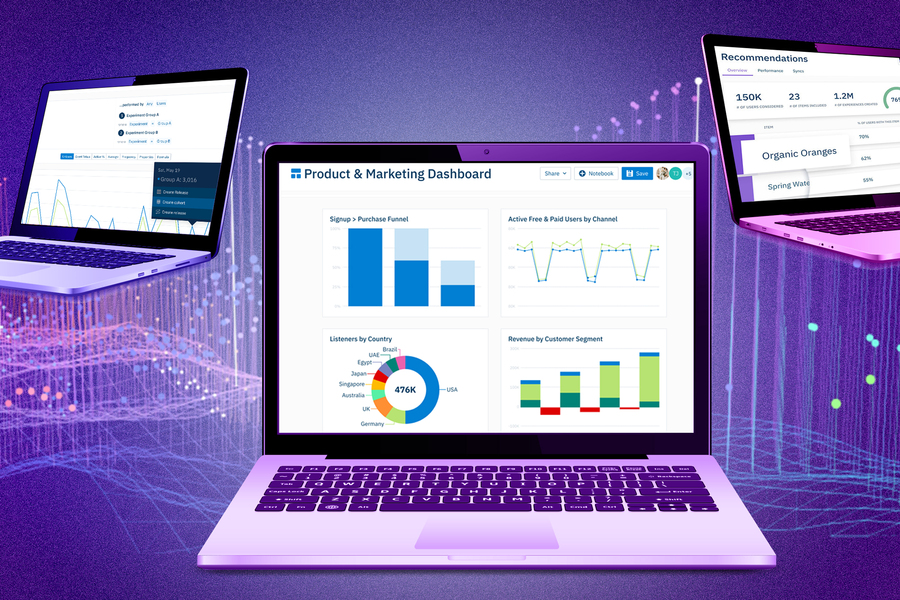 Creating a good customer experience increasingly means creating a good digital experience. But metrics like pageviews and clicks offer limited insight into how much customers actually like a digital product.
That's the problem the digital optimization company Amplitude is solving. Amplitude gives companies a clearer picture into how users interact with their digital products to help them understand exactly which features to promote or improve.
"It's all about using product data to drive your business," says Amplitude CEO Spenser Skates '10, who co-founded the company with Curtis Liu '10 and Stanford University graduate Jeffrey Wang. "Mobile apps and websites are really complex. The average app or website will have thousands of things you can do with it. The question is how you know which of those things are driving a great user experience and which parts are really frustrating for users."
Amplitude's database can gather millions of details about how users behave inside an app or website and allow customers to explore that information without needing data science degrees.
"It provides an interface for very easy, accessible ways of looking at your data, understanding your data, and asking questions of that data," Skates says.
Amplitude, which recently announced it will be going public, is already helping 23 of the 100 largest companies in the U.S. Customers include media companies like NBC, tech companies like Twitter, and retail companies like Walmart.
"Our platform helps businesses understand how people are using their apps and websites so they can create better versions of their products," Skates says. "It's all about creating a really compelling product."
Learning entrepreneurship
The founders say their years at MIT were among the best of their lives. Skates and Liu were undergraduates from 2006 to 2010. Skates majored in biological engineering while Liu majored in mathematics and electrical engineering and computer science. The two first met as opponents in MIT's Battlecode competition, in which students use artificial intelligence algorithms to control teams of robots that compete in a strategy game against other teams. The following year they teamed up.
"There are a lot of parallels between what you're trying to do in Battlecode and what you end up having to do in the early stages of a startup," Liu says. "You have limited resources, limited time, and you're trying to accomplish a goal. What we found is trying a lot of different things, putting our ideas out there and testing them with real data, really helped us focus on the things that actually mattered. That method of iteration and continual improvement set the foundation for how we approach building products and startups."
Liu and Skates next participated in the MIT $100K Entrepreneurship Competition with an idea for a cloud-based music streaming service. After graduation, Skates began working in finance and Liu got a job at Google, but they continued pursuing startup ideas on the side, including a website that let alumni see where their classmates ended up and a marketplace for finding photographers.
A year after graduation, the founders decided to quit their jobs and work on a startup full time. Skates moved into Liu's apartment in San Francisco, setting up a mattress on the floor, and they began working on a project that became Sonalight, a voice recognition app. As part of the project, the founders built an internal system to understand where users got stuck in the app and what features were used the most.
Despite getting over 100,000 downloads, the founders decided Sonalight was a little too early for its time and started thinking their analytics feature could be useful to other companies. They spoke with about 30 different product teams to learn more about what companies wanted from their digital analytics. Amplitude was officially founded in 2012.
Amplitude gathers fine details about digital product usage, parsing out individual features and actions to give customers a better view of how their products are being used. Using the data in Amplitude's intuitive, no-code interface, customers can make strategic decisions like whether to launch a feature or change a distribution channel.
The platform is designed to ease the bottlenecks that arise when executives, product teams, salespeople, and marketers want to answer questions about customer experience or behavior but need the data science team to crunch the numbers for them.
"It's a very collaborative interface to encourage customers to work together to understand how users are engaging with their apps," Skates says.
Amplitude's database also uses machine learning to segment users, predict user outcomes, and uncover novel correlations. Earlier this year, the company unveiled a service called Recommend that helps companies create personalized user experiences across their entire platform in minutes. The service goes beyond demographics to personalize customer experiences based on what users have done or seen before within the product.
"We're very conscious on the privacy front," Skates says. "A lot of analytics companies will resell your data to third parties or use it for advertising purposes. We don't do any of that. We're only here to provide product insights to our customers. We're not using data to track you across the web. Everyone expects Netflix to use the data on what you've watched before to recommend what to watch next. That's effectively what we're helping other companies do."
Optimizing digital experiences
The meditation app Calm is on a mission to help users build habits that improve their mental wellness. Using Amplitude, the company learned that users most often use the app to get better sleep and reduce stress. The insights helped Calm's team double down on content geared toward those goals, launching "sleep stories" to help users unwind at the end of each day and adding content around anxiety relief and relaxation. Sleep stories are now Calm's most popular type of content, and Calm has grown rapidly to millions of people around the world.
Calm's story shows the power of letting user behavior drive product decisions. Amplitude has also helped the online fundraising site GoFundMe increase donations by showing users more compelling campaigns and the exercise bike company Peloton realize the importance of social features like leaderboards.
Moving forward, the founders believe Amplitude's platform will continue helping companies adapt to an increasingly digital world in which users expect more compelling, personalized experiences.
"If you think about the online experience for companies today compared to 10 years ago, now [digital] is the main point of contact, whether you're a media company streaming content, a retail company, or a finance company," Skates says. "That's only going to continue. That's where we're trying to help."
---
For enquiries, product placements, sponsorships, and collaborations, connect with us at

[email protected]

. We'd love to hear from you!
---
Our humans need coffee too! Your support is highly appreciated, thank you!