Virtually all companies face two broad challenges: to marshal data for smarter decision making, and to deliver more personalized and convenient experiences for customers.
Artificial intelligence (AI) can help, but the path from AI investment to business outcome can be difficult to chart. To fast-track time to value, today, we're pleased to announce new additions to two of our core AI-powered solutions:
Contract DocAI, now in preview, adds to Google Cloud's Document AI solution, a scalable cloud-based AI platform to help businesses efficiently scan, analyze, and understand documents. Contract DocAI brings new features purpose-built for the most important and complicated documents of all: contracts. It lets users extract insights from the unstructured text in contracts, helping to accelerate contract lifecycles and reduce the cost of contract processing.
These announcements build on the momentum we've been seeing with our AI solutions in delivering business value to our customers.
According to a 2020 commissioned study conducted by Forrester Consulting, "New Technology: The Projected Total Economic Impact™ Of Google Cloud Contact Center AI," CCAI can help customers save millions by efficiently directing customers between self-service resources and human agents, reducing average call times, and decreasing manual data entry.  Call center teams using Google Cloud's CCAI for Chat have been able to manage up to 28% more conversations concurrently, for example, all while responding 15% faster to customer inquiries and increasing customer satisfaction by 10%. Likewise, leveraging DocAI, our customers are able to improve document processing and better serve customers—such as mortgage company Mr. Cooper, which increased the efficiency of mortgage document operations by 400%, improving the experience for both team members and their more than 3 million customers.
With today's announcements, we are pleased to continue on this journey of meeting customers where they are and putting ready-to-use AI solutions directly in their hands, to fast-track the path from AI investment to transformative business outcomes.
Deepen customer understanding with CCAI Insights
CCAI Insights helps teams offer better customer experiences by using AI to mine raw contact center interaction data for actionable information, regardless of whether that data originated with a virtual or human agent. It provides a number of out-of-the-box analytics on customer conversations, including:
Smart Highlighters: Automatically highlights important conversation moments, such as when an agent authenticates, a customer confirms their issue has been resolved, or an agent puts a customer on hold.
Cloud Natural Language Processing (NLP) Integration: New Customer & Agent Sentiment functions within CCAI score each portion of a conversation so teams can understand any positive or negative sentiment; and Entity Extraction identifies and labels various entities within a conversation by types such as date, person, contact information, organization, location, events, products, and media, so teams can report on data to improve script or train agents to resolve resolution rates.
Beyond out-of-the-box capabilities, CCAI Insights also helps teams categorize their conversations with
Custom Highlighters — Defines rules, keywords, and natural language training phrases to help teams understand things like when customers mention a competitor or a recent promotional offering.
Topic Modeling— Leverages advanced NLP technologies like BERT so teams can create an unsupervised model of their data to define the taxonomy of conversation drivers.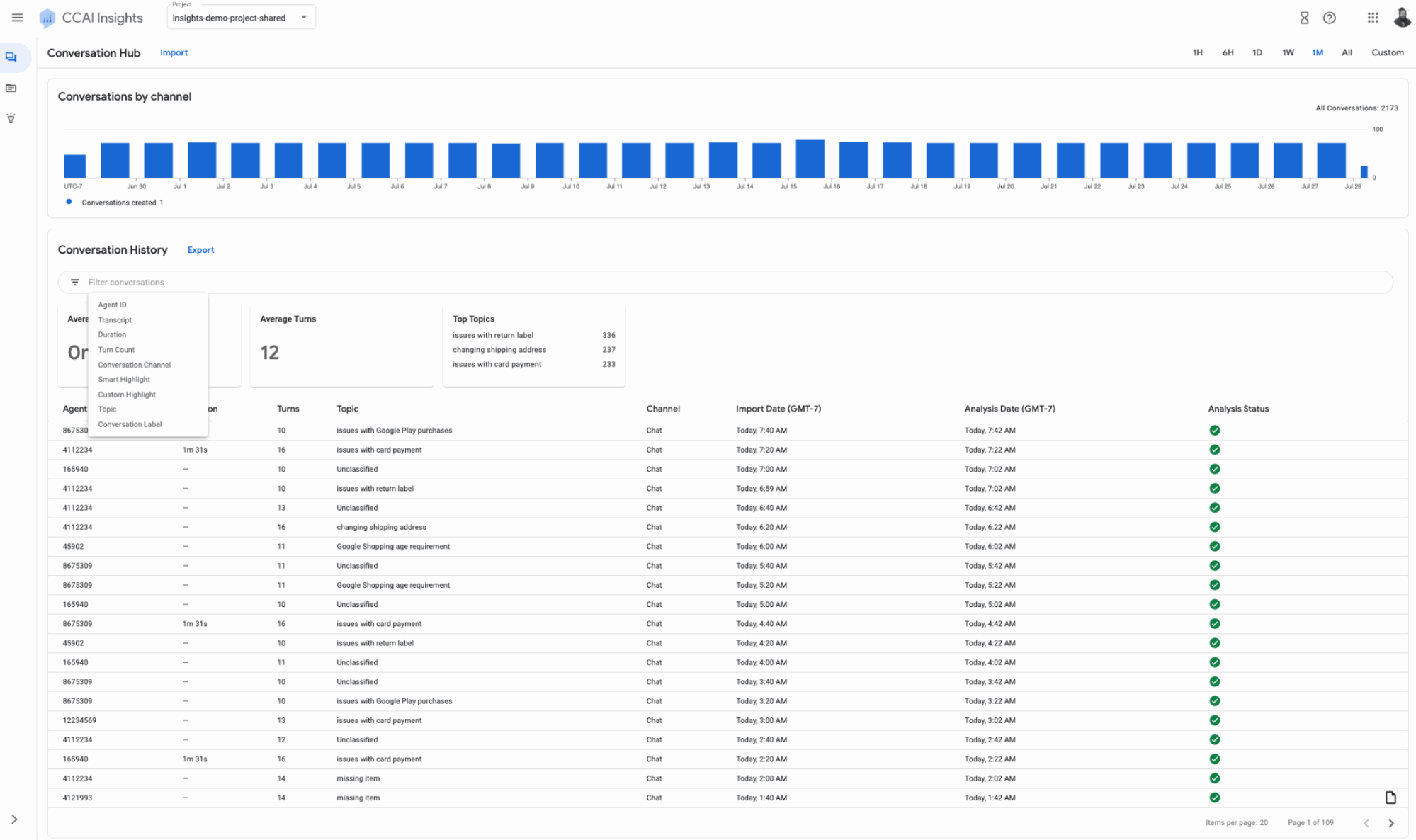 As part of Google Cloud's CCAI solution, CCAI Insights also seamlessly hands off calls and chats handled by Dialogflow (CX or ES) and Agent Assist, letting it pull in advanced data from either. CCAI Insights also brings together the best of Google with native integrations to BigQuery and Looker, so customers can create more powerful and accurate data visualizations.
TELUS, a Canadian communications technology company, sees great potential for CCAI Insights to empower its analyst teams to provide value back to the business.
"With CCAI Insights, TELUS is looking at processing 20 million voice calls for analytics. This will help agents resolve customer inquiries faster and with less effort, which will lead to significant savings via agent effort reduction in the first year of production. Our goal is also to save our customers tens of thousands of hours by using AI to guide them to the channel that best supports their needs and allows for quicker resolutions such as self-serve and digital applications, making it easier to perform transactions on-line. This leads to customers spending reduced time with customer care and improved customer experiences." —Mike Kellner,  Director, AI Data & Analytics, TELUS
Accelerate contract lifecycle management with Contract DocAI
As part of Google Cloud's DocAI solutions, Contract DocAI leverages a variety of AI technologies — including NLP, knowledge graph technology, and optical character recognition (OCR) — to accurately parse contracts at scale for key terms, such as those involving start and end dates, renewal conditions, parties involved, contract type, venue, or service level agreements. By automatically discerning important terms and the relationships among them, Contract DocAI also helps human reviewers work more efficiently, leading to faster and less expensive contract processing, while providing new semantic lenses to categorize and analyze contract content.
Ironclad, a leading provider of contract management services, was among the earlier adopters of Contract DocAI.
"With Contract DocAI, we built Smart Import for existing contracts, which has helped customers gain more access, visibility, and insights for all their contracts. Our customers can now upload contracts 75% faster while saving up to 40% on costs. Smart Import also unlocks contract data that was previously inaccessible and enables other parts of the business to make better, faster decisions. With the power of Google Cloud's Contract DocAI, we've been able to focus on unlocking greater value for our customer, instead of having to spend time, effort, and money pursuing AI innovation ourselves."—Cai GoGwilt, CTO, Ironclad
Accelerate business results with AI
All of these new additions will help transform businesses by making the power of AI more accessible and more focused on achieving business outcomes. To learn more about CCAI Insights, click here, and to learn more about Contract DocAI, click here.
For an even deeper dive, don't miss these sessions at Google Cloud Next: "Using CCAI Insights to better understand your customers," in which Dinesh Mahtani, Director of Data Analytics at TELUS, discusses how to leverage insights from customer interaction data to deliver better products and service; and "Google Cloud ad Ironclad partner to accelerate document workflows," in which Ironclad CTO Cai GoGwilt explores how AI can turn contracting into a business hub instead of a process blocker.
By Craig Wiley Director, Product Management, Cloud AI
Source Google Cloud
---
For enquiries, product placements, sponsorships, and collaborations, connect with us at

[email protected]

. We'd love to hear from you!
---
Our humans need coffee too! Your support is highly appreciated, thank you!