George Lordos is not your typical graduate student. A degree in economics from Oxford University, an MBA from the MIT Sloan School of Management, and a 20-year professional career were not the end of his learning journey. His longtime passion for space, particularly the prospect of making a sustainable society on Mars a reality, drew him back to school yet again, this time to study aeronautics and astronautics at MIT.
Lordos remembers vividly the impetus for this change in his professional trajectory. In 2014, SpaceX started demonstrating reusable rockets. "I realized that [developing] rockets that can go to space and come back was like inventing sailing ships that can cross oceans, or trains that can cross continents, for the first time," he says. As human space travel was becoming more feasible, Lordos adds, "I was watching all this from the sidelines, and I did not want to be on the sidelines." Now, he's squarely on the front lines, developing technologies to support human life on the Red Planet.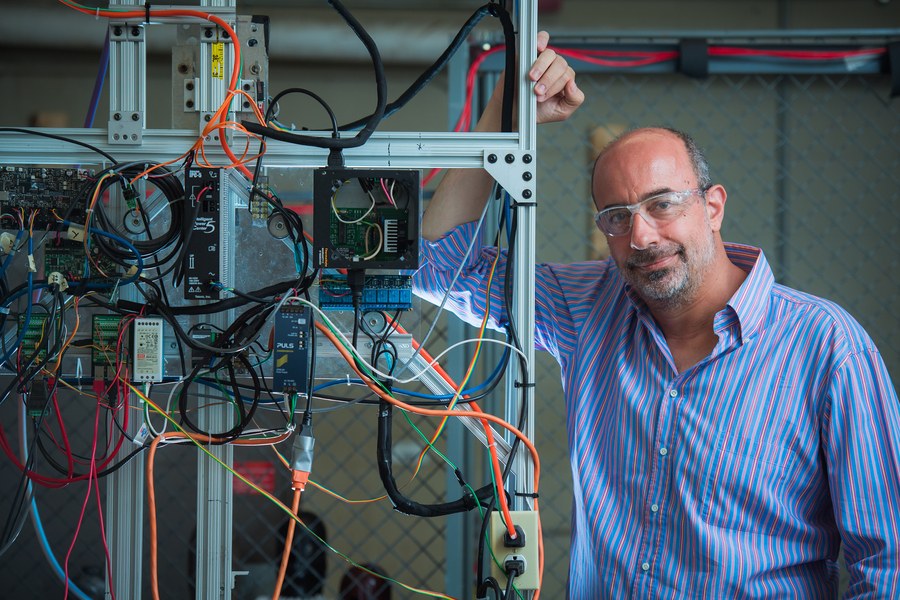 A longtime fascination with space
A native of Cyprus, Lordos has been interested in space, particularly the idea of living on Mars, ever since high school. As president of his high school's astronomy club, he arranged a trip to see Halley's Comet, drawing over 100 students. However, the trip did not go as planned; cloudy conditions precluded any hope of viewing the comet. His classmates didn't seem to mind. "Everyone was much more interested in each other than looking for the comet. I think I was one of the few that was more interested in the comet," he recalls. Fortunately, during a camping trip a few days later the night sky cooperated, "and there it was in all of its glory."
After considering studies in either engineering or economics, Lordos attended Christ Church College at Oxford University, earning a degree in philosophy, politics, and economics. He appreciates the perspective he gained from his degree. "One of the biggest gifts in my life was that I, a computing nerd, had the opportunity to learn how to think about important challenges facing our world," he says.
Lordos worked for a travel business for several years digitizing its operations before going back to school to get his MBA at MIT Sloan. After graduating, he worked for Bain and Company for a couple years and then spent the next 13 years as a serial entrepreneur and self-taught engineer in information technology and energy-efficiency consulting.
All the while, his interest in space never waned. Before his first semester at MIT Sloan, he flew to Denver to attend the founding convention of the Mars Society, a group of engineers and scientists pushing for humankind to go to Mars. "I left the convention convinced that someday, humanity would establish a sustainable civilization on Mars," he recalls. "The only question in my mind was whether that would actually happen in my lifetime."
In 2015, inspired by SpaceX's reusable rockets, Lordos began seriously considering going back to school for a PhD. Even though he had missed the application deadline for MIT's Department of Aeronautics and Astronautics, one of his Sloan economics professors encouraged him to apply to the System Design and Management (SDM) program, targeted for midcareer professionals. "This program gave me the formal training I needed to fill the gaps, as I was a self-taught engineer for 15 years," he says.
Building a city on the Red Planet
During his first year in SDM, Lordos applied and was accepted to the AeroAstro program, where he has focused on finding ways to support human life on Mars. Given how far away it is, he explains, "the only way to live there requires substantial self-sufficiency." In his research, which is largely modeling-based, he has drawn on his background in economics and technology to develop a quantifiable, cost-benefit analysis method that measures effort, cost, and value, which he terms "lifetime embodied energy."
"Through evolution, biology constantly seeks to optimize the use of energy," he explains. "Accordingly, lifetime embodied energy is a metric of the past and future energy that must be expended to obtain value out of any system. This metric helps the system architect to make better-informed trade-off decisions, especially for infrastructure, and to leave more energy available to power sustainable growth over the long term."
Beyond his doctoral research, Lordos also loves prototyping, which he pursues through various NASA competitions, including the Revolutionary Aerospace Systems Concepts (RASC-AL) and the Breakthrough, Innovative and Game-Changing (BIG) Idea Challenge. Over the last five years, teams he has led or mentored earned 11 NASA awards for their designs, including prototypes of a tall, lightweight lunar tower and an ice mining system for efficient water retrieval on Mars.
To support his teams, Lordos founded MIT's Space Resources Workshop, where he serves as lab supervisor with support and advice from Jeffrey Hoffman, a professor of the practice and former astronaut, and Olivier de Weck, the Apollo Program Professor and a professor of astronautics and engineering systems. The workshop is currently home to three teams with over 40 members, including 10 Undergraduate Research Opportunities Program (UROP) students.
In June, a team Lordos mentored won first place overall at NASA RASC-AL for designing vehicles which can reliably produce, store, and distribute rocket propellant on Mars. For the next BIG Idea Challenge in November, he is leading a finalist team building a field-reconfigurable robot to traverse extreme lunar terrain, named WORMS (short for Walking Oligomeric Robotic Mobility System).
In addition to the NASA competitions, Lordos and his colleagues have won other notable awards, including from the Mars Society and the AeroAstro department. For example, his team won first place for Star City, their vision for a sustainable city on Mars, in the 2019 Mars Colony Design prize competition.
Finding a "beacon of hope"
Now in his final year, Lordos admits that despite his success at MIT, being an older student has not been without challenges. There are basic stumbling blocks, like being "several decades removed from my last math class," he says. And there are other, more complex issues. "When you are an older student, you have other things going on in your life," he says. He has felt this acutely, since his wife's career in Cyprus and their children's university education have kept the family apart for long stretches of time. He knows that he could not have pursued his degree without their support. Nevertheless, he says, "One advantage of being a mature student is that, for me, after a lifetime of experiences, it is natural to see the big picture and also to know which details matter most."
Lordos's biggest challenge appeared suddenly in late 2021, when he was diagnosed with cancer. Thankfully, he received a great deal of support. With his wife, children, and MIT colleagues by his side as he went through treatment, he says, "We felt like all of MIT became a part of our family." Now, he has every reason to be hopeful about his future: a few weeks ago, he was declared cancer-free after a scan.
He's also hopeful about the promise of space. "Building a city on Mars is an opportunity for a second branch of human civilization. There are many things that we would like to fix about Earth and our society, but it is difficult because there are so many competing interests. There is an opportunity when starting afresh on a new world to work together for the greater good of all, and to shine a beacon of hope to those of us who are striving to make the Earth a better place."
---
For enquiries, product placements, sponsorships, and collaborations, connect with us at

[email protected]

. We'd love to hear from you!
---
Our humans need coffee too! Your support is highly appreciated, thank you!