The developer of ICT solutions, Ruf Avatech, has designed a fever measuring camera suitable for use in crowds. This would allow up to 45 sick or infected people to be identified at the same time. Fever is one of the symptoms of Covid-19.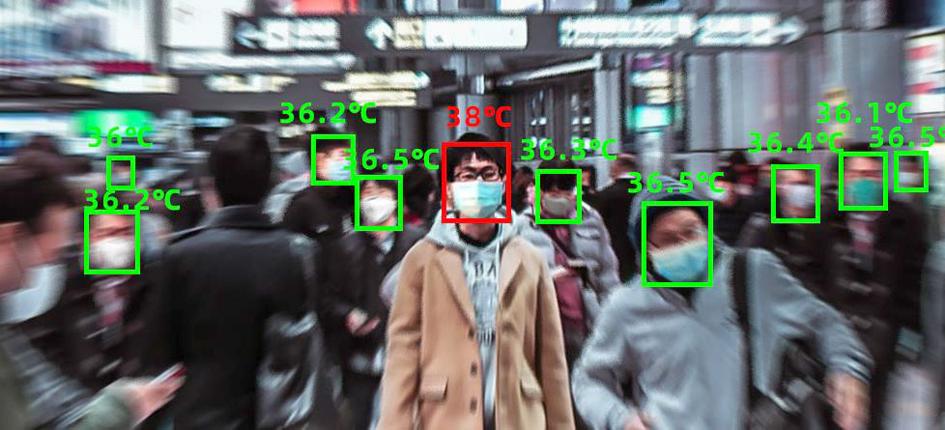 Ruf Avatech AG, a company based in Schlieren in the canton of Zurich, has unveiled a camera system with the aim of reducing Covid-19 infection rates in locations subject to high visitor numbers. The pair of cameras linked in a single device for video recordings and thermography (i.e. capturing infrared and thermal images) are able to detect raised temperatures in individual people within a crowd, alert them and record the data for evaluation by way of Artificial Intelligence (AI). "A fever is one of the typical symptoms associated with Covid-19 infections. Many patients display a fever at the initial stage of Covid-19 infections. Measuring body temperatures is therefore a highly important way of preventing and fighting Covid-19", Ruf writes in explaining the way its contactless body temperature measuring system works.
According to a press release, remote temperature measurements can be taken for up to 45 people at the same time, irrespective of whether they are on the move or standing still. This allows suspected cases to be isolated rapidly and ensures that contact with a risk of infection to other people can be prevented.
According to Ruf, potential areas of application include schools, universities, shopping centers and offices, in addition to hospitals, train stations, airport arrivals lounges, hotels and conference centers – essentially, any location where large crowds of people tend to gather.
---
For enquiries, product placements, sponsorships, and collaborations, connect with us at

[email protected]

. We'd love to hear from you!
---
Our humans need coffee too! Your support is highly appreciated, thank you!