We believe that any company that has to manually extract data from complex documents at scale can greatly benefit from Google Cloud AI. Transforming documents into structured data increases the speed of decision making for companies, unlocking measurable business value and helping develop better experiences for customers.
Historically, doing this at scale hasn't been efficient. This is why Google Cloud has worked to help businesses use Artificial Intelligence (AI) and machine learning to automate these processes, and why we're excited to announce the new Document AI (DocAI) platform, a unified console for document processing.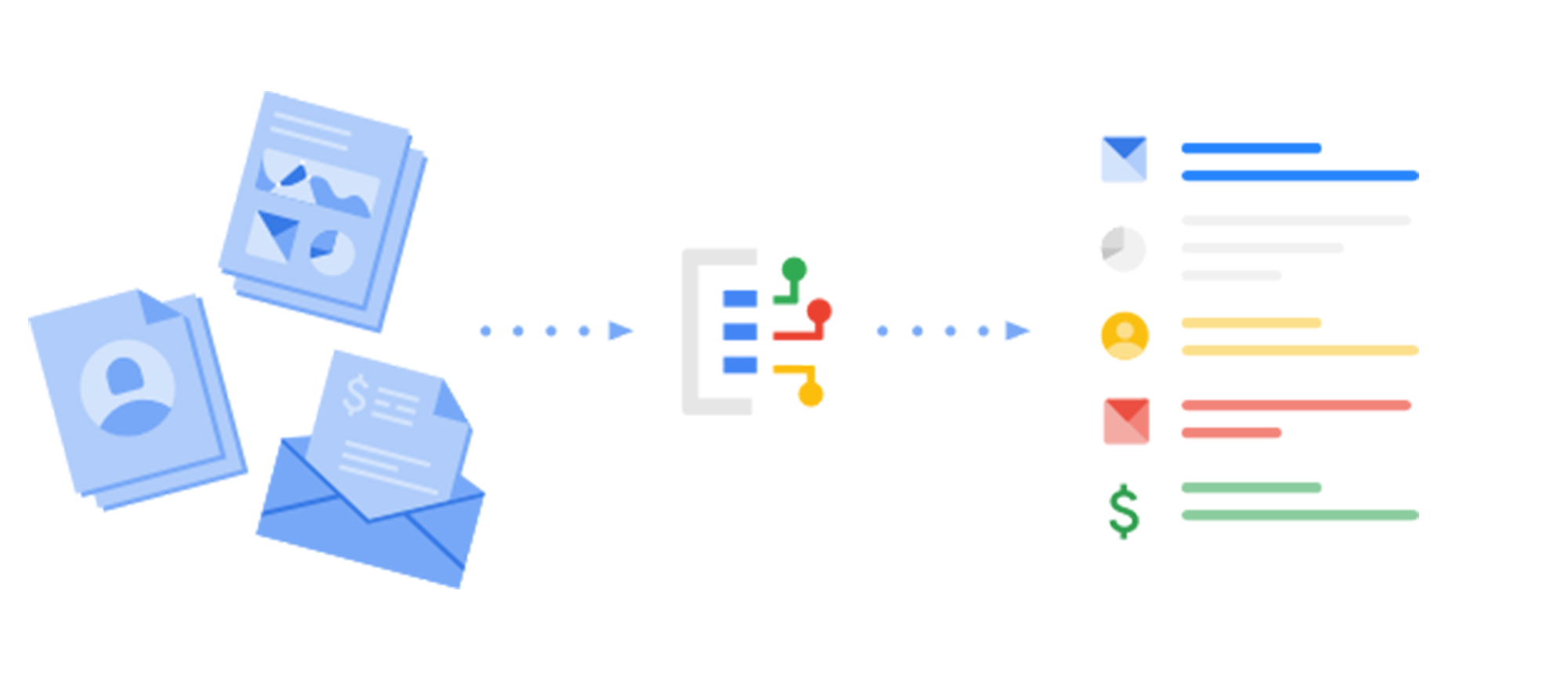 Today, the DocAI platform is available in preview, enabling you to:
Ensure your data is accurate and compliant: Automate and validate all your documents to streamline compliance workflows, reduce guesswork, and keep data accurate and compliant.
Make better business decisions: Improve operational efficiency by extracting structured data from unstructured documents and making that available to your business applications and users.
Use your data to meet customer expectations: Leverage insights to meet customer expectations and improve CSAT, advocacy, lifetime value, and spend.
With the new DocAI platform, you can quickly access all parsers, tools and solutions (e.g. Lending DocAI, Procurement DocAI) with a unified API, enabling an end-to-end document solution from evaluation to deployment. It allows effortless creation and customization of document processing workflows. Data extraction is now easier because the specialized parsers on the platform are built with Google Cloud's predefined taxonomy, without the need to perform additional data mapping or training.
One of our customers, Unifiedpost, a FinTech company from Belgium, increased their data capture accuracy by 250% and also lowered their TCO of procure-to-pay processing costs by up to 60% by using Procurement DocAI.
How to use the new DocAI platform
To illustrate how the DocAI platform works, here's an example of the main selection screen of all the parsers, followed by two examples from a W9 and an invoice. First, you need to first create a document processor. You can either use one of our general processors such as Form Parser, or a specialized processor such as W9 Parser for your domain-specific documents.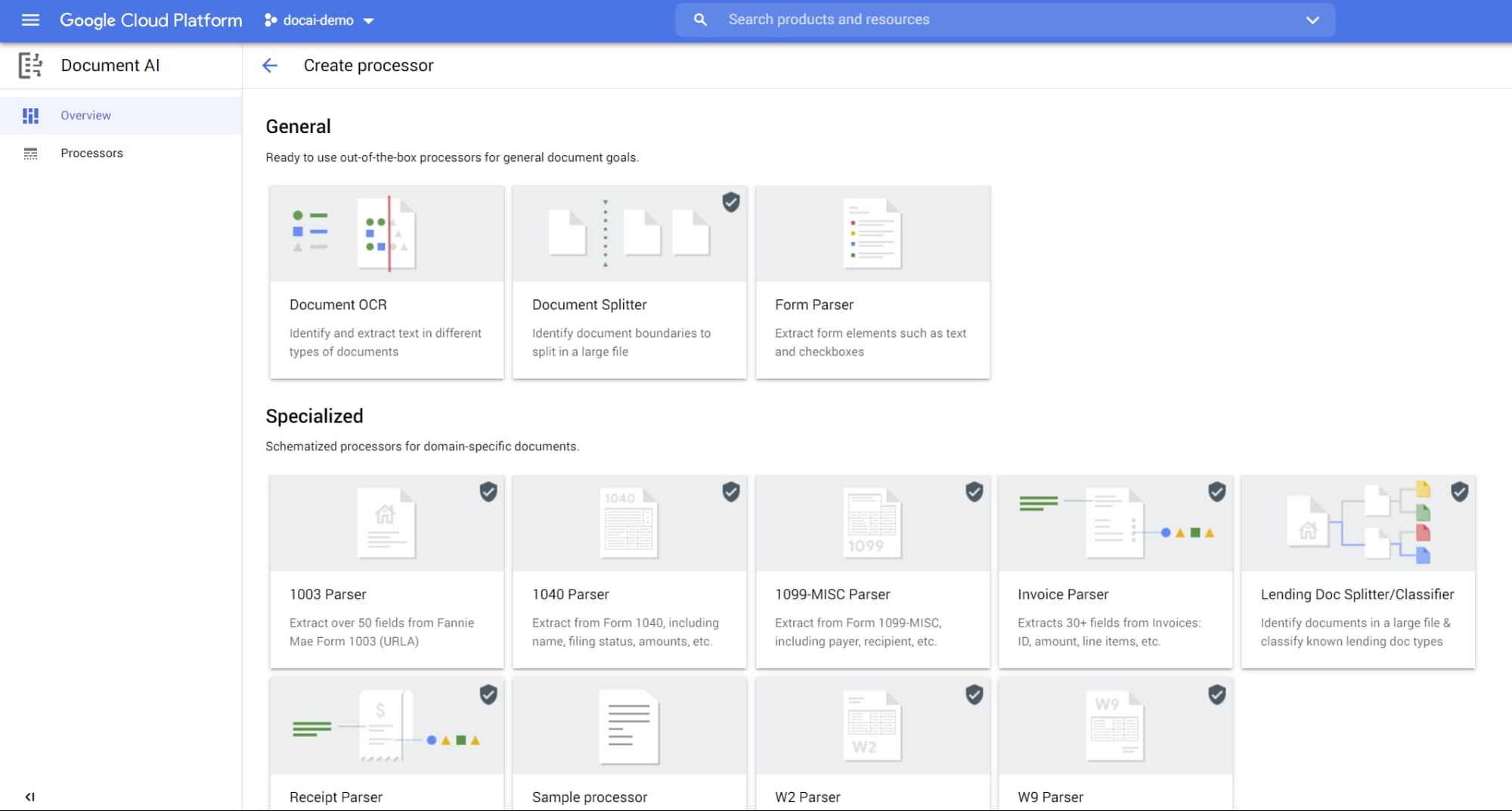 Once you've created your processors, they can be viewed in a unified dashboard. You can also test your processor by uploading your own document directly in the console. In the example below, you see that the W9 parser has accurately classified the information (e.g. address, account numbers, and signatures) in the document.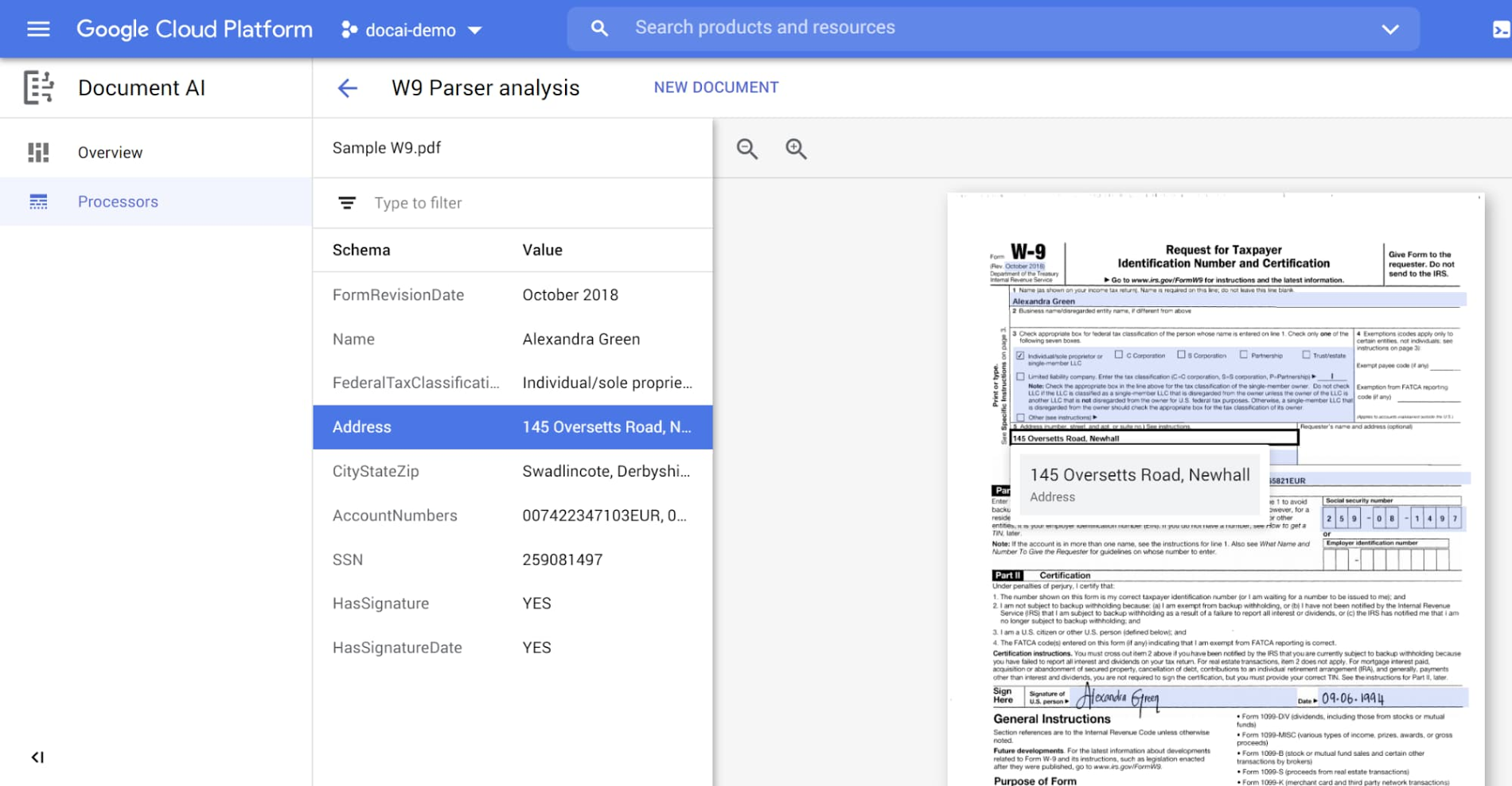 You can also try this with an invoice for procurement document processing. In the example below, the invoice parser was able to extract the appropriate data (e.g. supplier name, invoice date, and payment terms) from the document.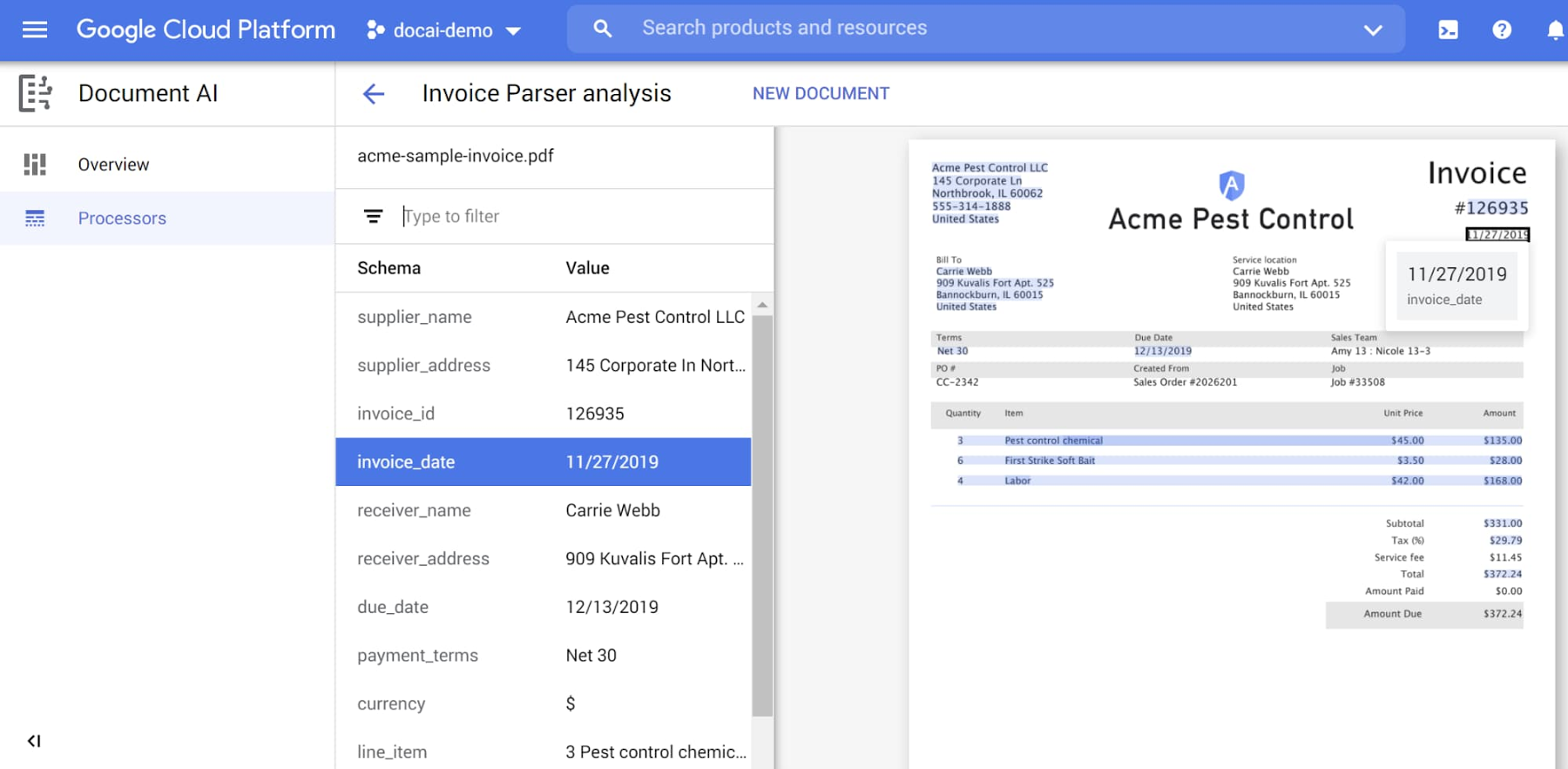 We're working on additional capabilities for the DocAI platform to rapidly grow its core capabilities and support for additional parsers. All of its specialized parsers are created and fine-tuned to achieve industry-leading accuracy, helping businesses confidently unlock insights from documents with machine learning. General parsers such as OCR (Optical Character Recognition), Form parser, and Document splitter are publicly accessible. You can also request access to specialized parsers such as W9, 1040, W2, 1099-MISC, 1003, invoice, and receipts.
What's next
We're excited to have you start working with the DocAI platform. To learn more about how to get started and everything you can do with the platform, check out our documentation or contact the Google Cloud sales team.
By Lewis Liu Product Manager, Document AI & Yang Liang, Product Marketing Manager
Source https://cloud.google.com/blog/products/ai-machine-learning/google-cloud-announces-document-ai-platform
---
For enquiries, product placements, sponsorships, and collaborations, connect with us at

[email protected]

. We'd love to hear from you!
---
Our humans need coffee too! Your support is highly appreciated, thank you!